Vivekananda and Pondicherry
On his way to Chennai from Kanyakumari, Swami Vivekananda stopped in Puducherry for a few days in 1893. That sacred memory is being maintained by Ramakrishna Seva Sangam, Puducherry. To bring the grace of Bhagavan Sri Ramakrishna, Holy Mother Sri Sarada Devi and Swami Vivekananda and to continue preserving the connection between Swami Vivekananda and Puducherry, the Ramakrishna Seva Sangam decided to invite Ramakrishna Math and Ramakrishna Mission to Puducherry.

Swami
Vivekananda

Renunciation and service are the twin ideals of India. Intensify her
in these channels and the rest will take care of itself.

Bhagavan
Sri Ramakrishna

God has made different religions

to suit different aspirants, times,
Inauguration of Sri Ramakrishna Math, Puducherry on 18-Mar-2022
The Path we march...
Pictures tell stories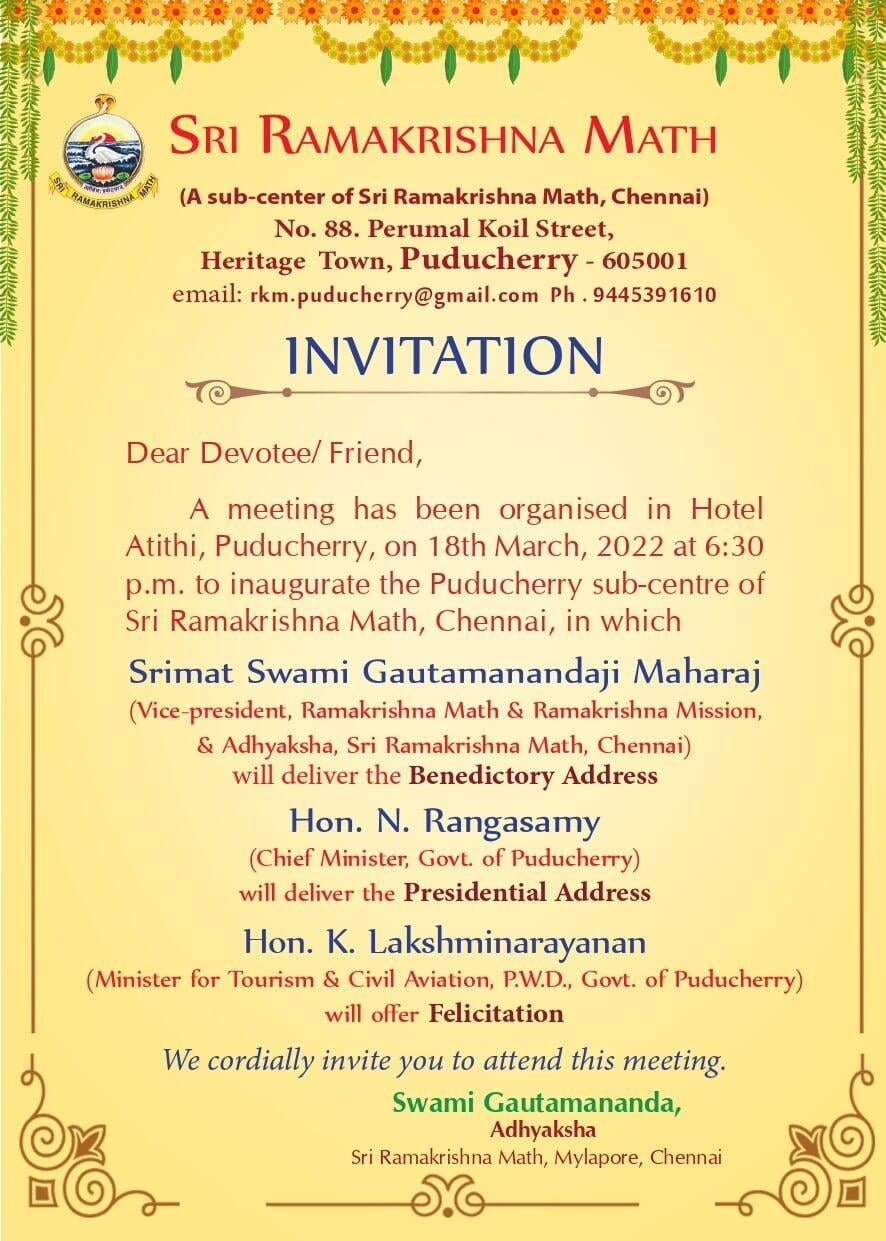 Inauguration of Ramakrishna Math in Puducherry
Dear Devotee/ Friend,
We invite you for the Inauguration of Sri Ramakrishna Math in Puducherry.
On: 18-Mar-2022 at: 6.30 pm
* Arati & Prayer
* Introduction - Swami Atmaghanananda
* Welcome Address by Sri S.K. Ganesan
(Vice-President, Sri Ramakrishna Seva Sangam, Puducherry)
* Presidential address by Hon. Chief Minister Sri. N. Rangasamy
* Felicitation by Hon. Minister of Tourism & Civil Aviation, P.W.D. Sri. K. Lakshminarayanan
* Benediction: Srimat Swami Gautamanandaji Maharaj, Vice-President, Sri Ramakrishna Math & Mission, Belur Math
* Vote of Thanks - Sri Sriram Subramanya, Founder, MD & CEO, Integra Software Services PVT Ltd, Puducherry